Experience and Expertise
Knowledge and insight gained as a lifelong resident of Cape Cod; negotiating and marketing skills acquired throughout a lengthy and highly successful career as a Realtor; and dedication proven by nearly four decades serving clients. Those are the fruits of Jack Cotton's experience and expertise, and just a few of the unparalleled advantages he offers his discriminating clients.Throughout his career Jack has been dedicated to the belief that ongoing education is vital for his own success as well as the success of his colleagues and profession. With that in mind, he funded creation of the Cotton Center for Real Estate Studies in 2006, has written three AMAZON BEST SELLING books on the subject of selling luxury real estate and is a sought-after speaker at professional conferences nationwide.
Jack's credentials include a college degree, multiple professional certifications and numerous continuing education courses. Needless to say, from 1974 when he founded Cotton Real Estate in his college dorm room, to the sale of his company to prestigious Sotheby's International Realty in 2005, and on to his current position in the upper echelon of Realtors worldwide, Jack has proven himself to be an authority on the purchase and sale of luxury Cape Cod real estate.
Integrity
While Jack's extensive experience and expertise are vitally important to his clients' and his success, it is inherent honesty, discretion and forthrightness that truly set him apart from his peers. The very foundation of his reputation is built on the placement of his clients goals and concerns at the forefront of every transaction.
---
Personal Quotes
The importance of "home" has always been a major facet of my life – from the time as a kid when I built a rickety house in the woods, to starting my own company in my college dorm room, to my current endeavors. Real estate is a big part of who I am.It's that magical feeling you have when you walk through the door of your own house; that sense of "all's right with the world." It doesn't matter if it's that crudely constructed treehouse you built as a kid, or a significant estate.
A house is the most important possession a person can have and I love being a part of helping my clients with their search. If we find one and they purchase it, that's icing on the cake.
I guess you could say for me real estate is more than just a career. It's a calling.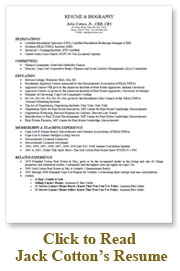 ---
Jack is also a best selling author.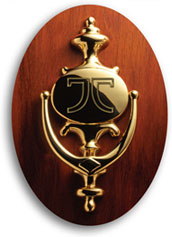 Jack Cotton's 36 years of success in the luxury real estate market has been distilled into three books.Whether you are a consumer or agent, Jack's books will help you make informed real estate buying and selling decisions based on the best practices of luxury clients.
Please visit Jack's author site.