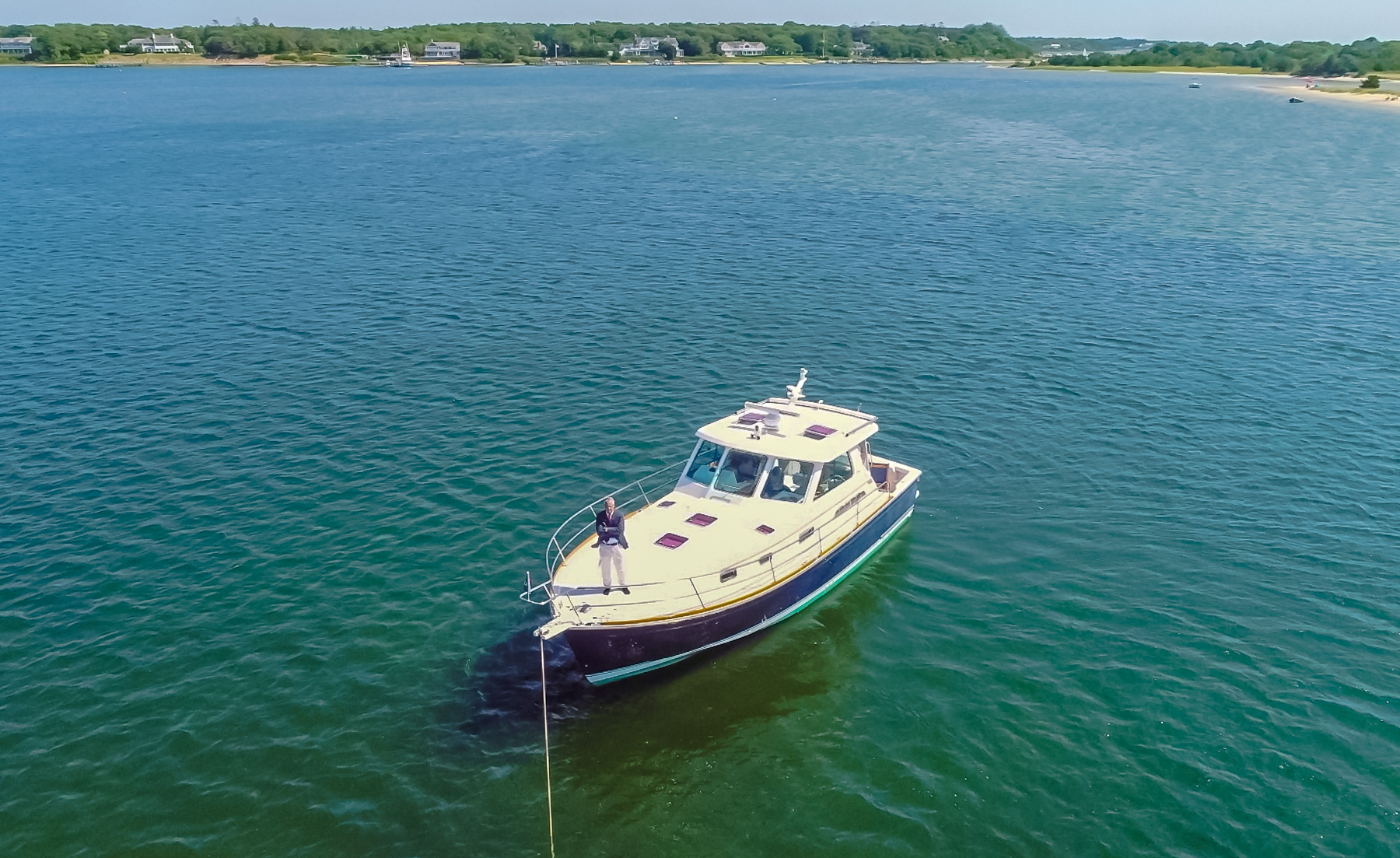 People often ask me, "What is the perfect boat to enjoy the waters around Osterville?" That's a pretty broad question because the waterways in Osterville are unlike any that exists on Cape Cod.
July can often be a windy month on Nantucket Sound and Buzzards Bay so it's nice to know that boaters in Osterville, Cotuit, and Marston's Mills can literally boat all day long without ever going into the Sound. It really doesn't matter what the conditions are, these inland waterways are always protected.
What that means is that you can enjoy Osterville and the waterfront environments with anything from a kayak to a large motor yacht. Let's look at the different categories:
For paddling or rowing
If you just want to paddle or row, any kind of small craft will suffice. With the protected waterways around the village, you're pretty safe all the time.

A popular destination is the two-mile long Sampson's Island and Dead Neck. With fabulous Nantucket Sound side beaches and a myriad of riverfront beach areas, Sampson's Island is a phenomenal destination that is accessible even with the smallest craft – that would include a paddleboard!

The cool part about paddling and going around the bay is that you will never be alone. No matter where you look, there are groups of paddlers, kayakers, and rowers nearby.

If you're more into small sailboats, a Sunfish or a Laser will be the perfect way to ply the waters of West Bay, North Bay, Cotuit Bay, and Seapuit River. These types of watercraft draw almost nothing, are easy to beach, and just as easy to store and care for.

For exploring nearby waters
If you want to increase your range, you may want to consider a powerboat which comes in two major categories: inboard and outboard.

Outboard boats give you more flexibility in terms of navigating the shallow waters in the Three Bay area. Even the smallest powerboat can explore the waters around the village and the Sampson's Island. I see plenty of examples of people out there with virtual bathtubs and a two- or three-horsepower motor!

For longer-range exploring
If your goal is to venture further, such as Martha's Vineyard, around 12 to 13 miles to the southwest or Nantucket, about 26 miles due south, you will definitely need something larger.

The smallest boat I would recommend in either situation would be something in the 22- to 23-foot range. I say this for two reasons. Number one: size does matter on Nantucket Sound where the waves and conditions can change in an instant.

Also, your family is going to enjoy boating with you a lot more if the boat has a head – nautical-speak for bathroom. If you get the smallest boat that has a head in the 22- to 23-foot range, the debate about whether to get one or two motors is really a personal preference. With the reliability of today's newer outboards, you are not likely to become stranded due to mechanical issues. The main advantage of two motors is maneuverability in tight places as you can use the motors to steer.

The full tour of the Three Bays around Oyster Harbors Island is about 60 minutes. For most of the area, there is a six-mile-per-hour speed limit which is a relaxing pace. Consider takeout from one of our village eateries and enjoy sunset with a glass of Pellegrino and lobster roll. What could be better?